KMW Hybrid system Ko Mod-Box
The KMW hybrid system Ko Mod-Box.
Decentralized and compact cooling module with hybrid cooling and optional heat recovery.
Suitable for the following refrigerants: R290, R455a, R134a.
The decentralized modules are installed directly on the individual refrigeration units, allowing cooling without connection to a central refrigeration system - regardless of store size. The Ko Mod-Box can be used in combination with all KMW products. It is suitable for normal refrigeration through shelves and counters as well as for deep refrigeration through islands and freezers.
Connection is made via prepared, simple plug connections for electricity, refrigeration and water.
A significant advantage of the decentralized cooling modules is that in the event of a malfunction, only individual units are affected. These can be replaced quickly so that the refrigerated shelves do not have to be cleared out. Nevertheless, the individual modules in the store can be networked with each other and the entire refrigeration line can thus be centrally monitored and controlled.
✓✓ KMW wall-mounted refrigerated display cases, freezer display cases, counters and deep-freeze cabinets with water-cooled condensers that are cooled decentrally with the Ko Mod-Box.
✓✓ No connection to central refrigeration system necessary
✓✓ No central machine room required
✓✓ Fully flexible units possible
✓✓ The compact modular design of the Ko Mod-Box allows direct and simple, energy-saving installation on or next to KMW refrigerated cabinets (for counters in the lower area)
✓✓ In the event of a malfunction, only individual units are affected and the modules can be replaced quickly and easily
✓✓ Low-noise, energy-saving hermetic compressor and water-cooled condensers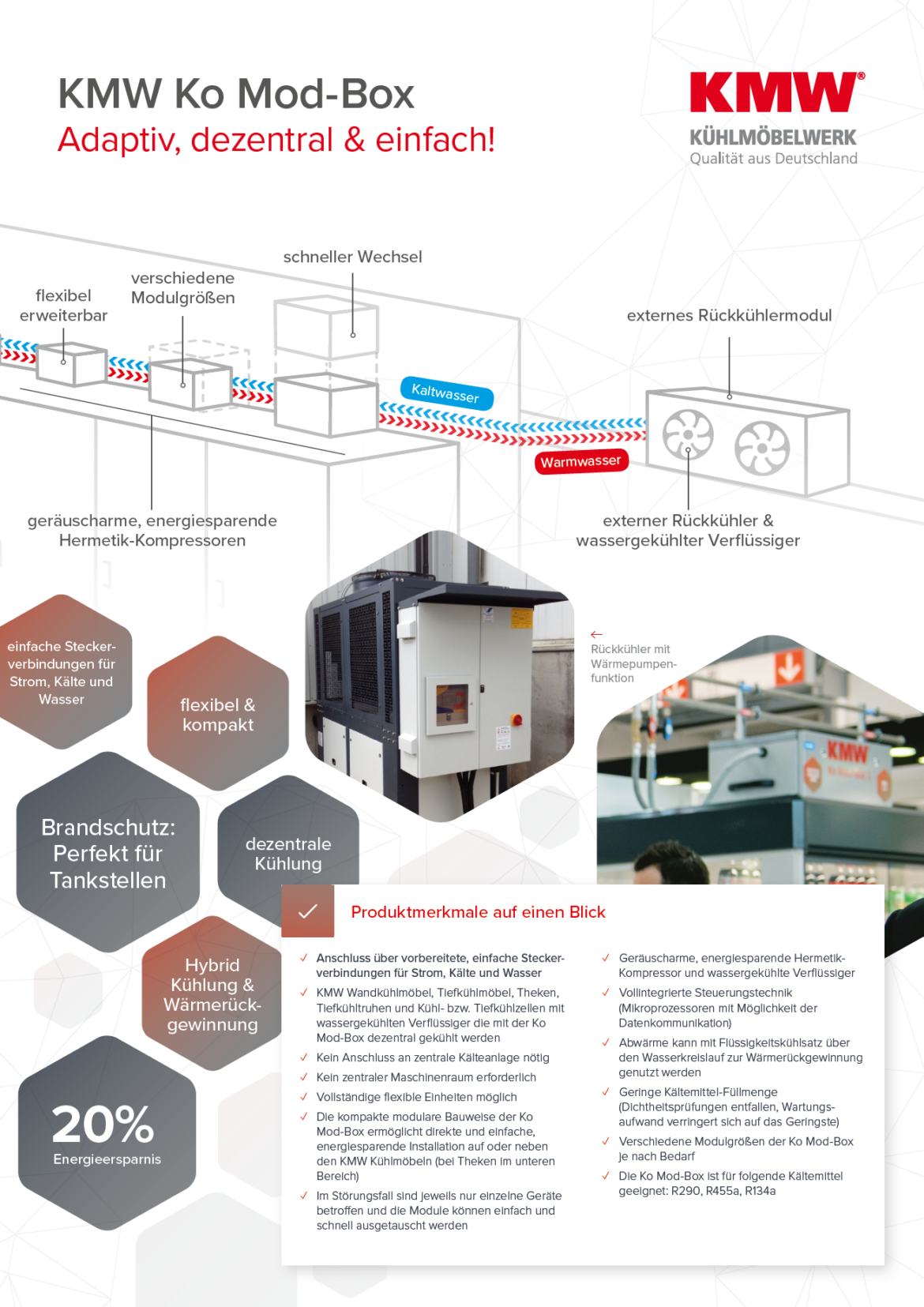 For questions and information to our product section accessories:


More products
Here you can find other products you might be interested in.